AI and machine learning are highly useful for retailers and sellers to analyze the needs of customers. AI helps decision-makers in analyzing enormous customer information. Some of the most promising use cases of AI in retail include personalized recommendations, in-store sentiment analysis, smart shelves, virtual shopping assistants, and AI-powered OCR for invoice processing.
We, at Oodles AI, as an Artificial Intelligence Development Company, highlight the most impactful applications of AI for retailers to enhance customer experience and profits.
Top-notch Use Cases of AI in Retail
Now, we'll look at how AI modernizes the retail business to offer improved experience.
1. Virtual trials of Apparel & Fashion Products
By using artificial intelligence technology, Retails store, or companies providing online virtual trial rooms and virtual showcases on apps to provide more details of their products by providing a more realistic personalized experience to his customers or buyers. Now customers are getting the best results for your needs and more suitable apparel and goods.
2. AI-based visual search recommendations
AI suggests similar or related products referencing your selection in a way that it would provide more choices and best match your needs. Visual search features, enhanced by machine learning development, are trained with a huge amount of data to match searches and categories with similar products and best prices available.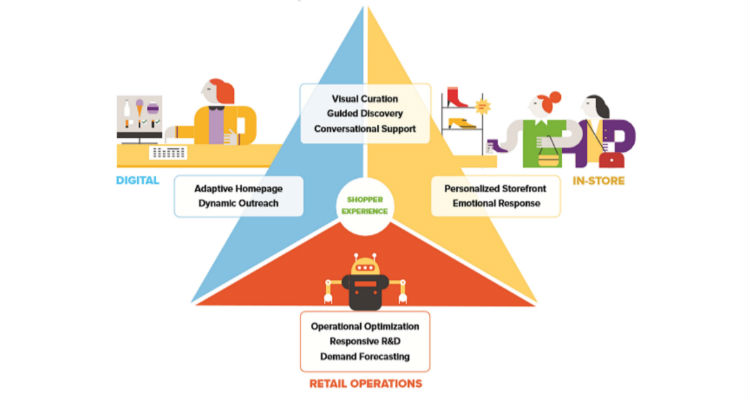 3. AI in Logistics and Delivery
By using artificial intelligence the shipping process gets faster which provides the benefits increased productivity, faster response times, end-to-end clarity across the value chain. Customers are always happy to get their orders as soon as possible, without any delays to achieve that AI can also help reduce the costs of shipping also to decide on the best routes. therefore, you will be able to get more discounts from suppliers and customers to get an increase in profits for their organization.
4. Virtual Shopping Assistants and Chatbots
Chatbots are also trained with a large number of datasets to gathers information about what customers want and providing results to them. They also provide various offers to make more interest in the products and boosting profits. Using various information of customers it solves most of the FAQ and also provides the methods so that sellers can provide more accurate results in the market.
Conclusion
Artificial Intelligence is changing the retails and supply chain industries. It's helping the retail brands to value those analytics and use it for the better growth of their business so that customers will easily find the right products with the option to check products online and using AI-based various other techniques.